Holiday in Scandanavia
Gaupne (N) to Hol (N)
Tuesday 17th July 2007
The weather this morning wasn't looking good, and that is what they forcasted unfortunatly.
But at least we'll be quite dry in our cars. When you look at the very nice car our neighbours drive, then I guess you won't be very dry.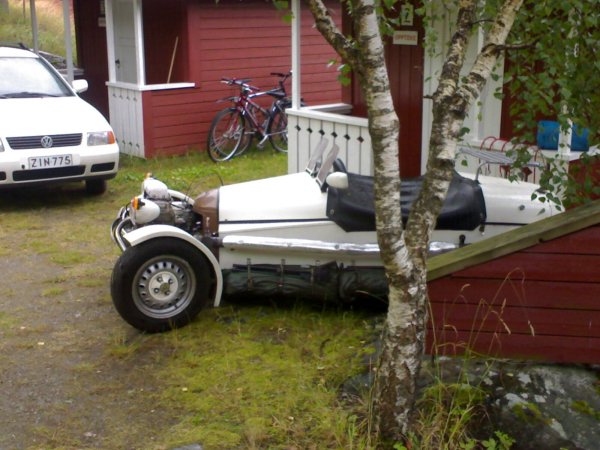 After breakfast, shower and packing up, the weather we had while driving wasn't improving much.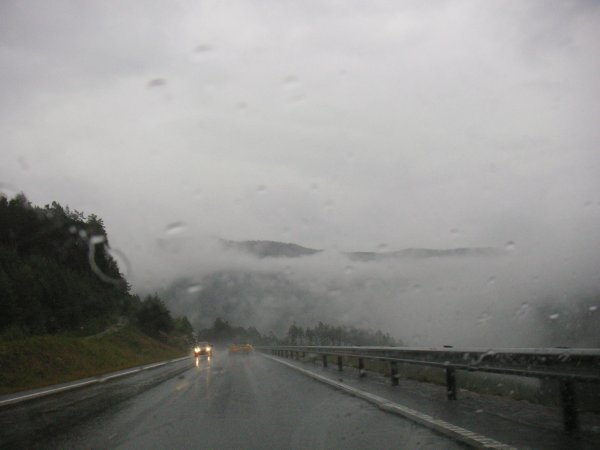 As we are going to Flåm to drive a bit on the railway, the weather isn't too important today.
Around 10:00 we arrived at the ferry.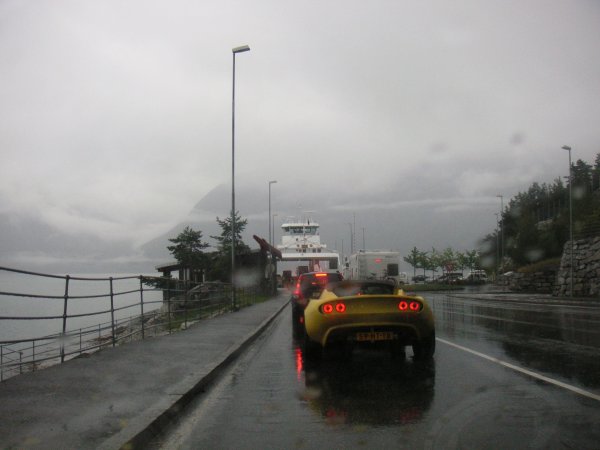 After a short trip we were driving again. And that was the start of a whole bunch of tunnels. The first one was about 8km. The second one was the longest we've seen this journey, 24.5km!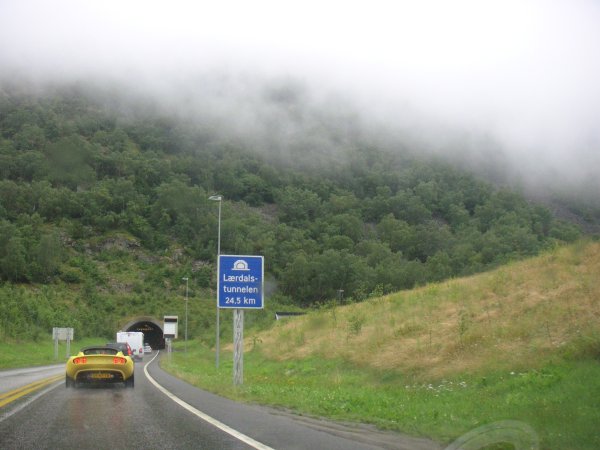 These tunnels are a bit more complex. The even have speed camera's and the long tunnel even has 3 big rooms which are specially lit and where you can stop.
Just after 11:00 we arrived at the railway. Unfortunatly the train was booked solid, the first oppertunity would be after 16:00! That is not an option for us, as that would mean problems finding a campsite on time. And with this kind of weather we would rather like a cabin.
One of the reasons the train is so busy is probably this ship. If only part of its passengers attend the train journey it will fill up the schedule.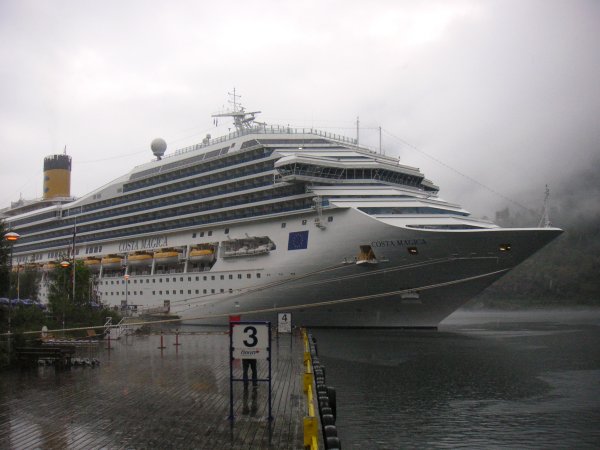 Fortunatly we had some use for stopping at this place. On the same spot thre is a small Coop, so we dropped by there to pick up some groceries.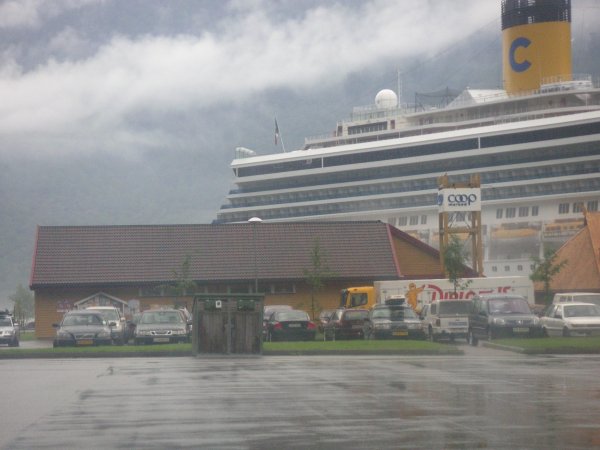 On our way to the lunch spot it was still raining. But because we were higher up now there were some nice views of clouds being wrapped around mountains.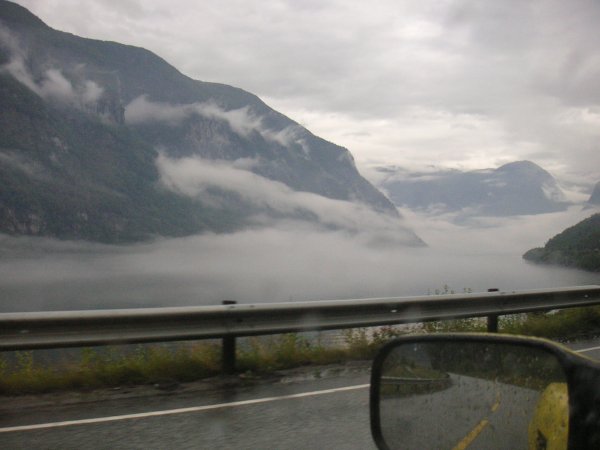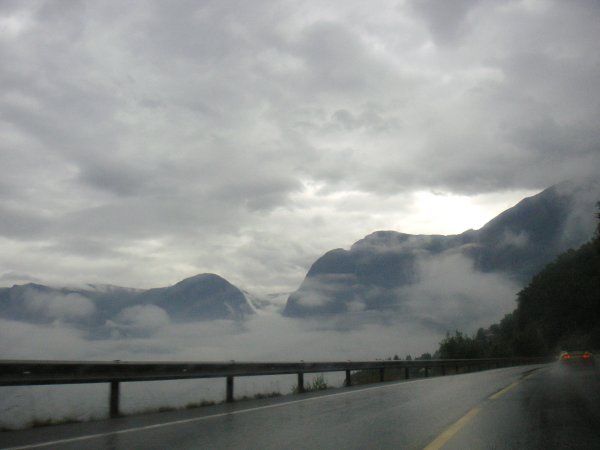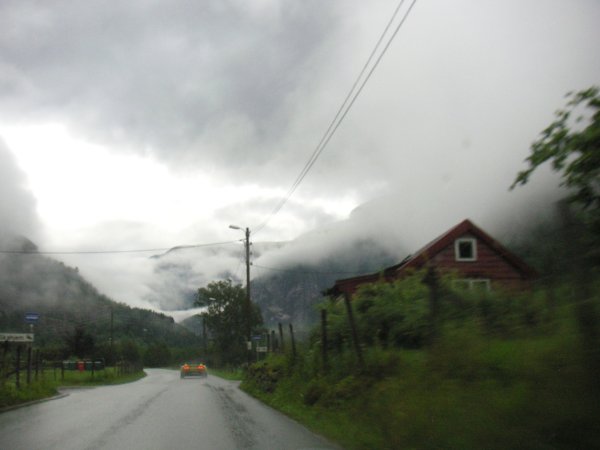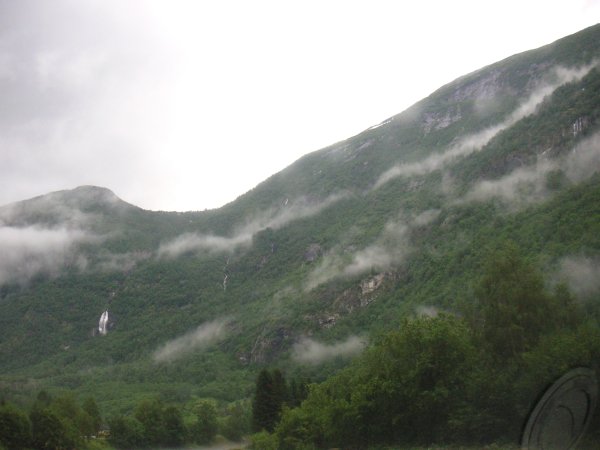 We also found a special tunnel. This one has only 1 lane. So you have to wait at the light for traffic from the other side to pass.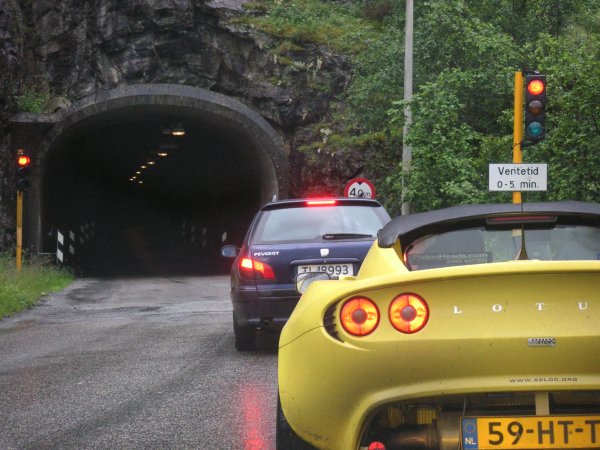 When it was almost dry we quickly stopped. There was a small place near the road with some garage boxes. We stopped there to quickly grab a bite.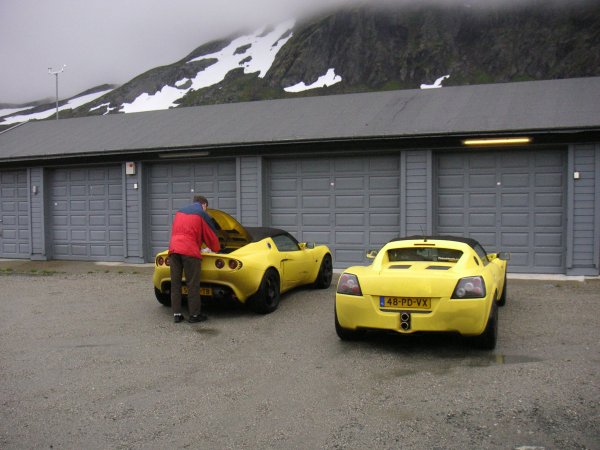 Just after 13:00 we found our first potential campsite.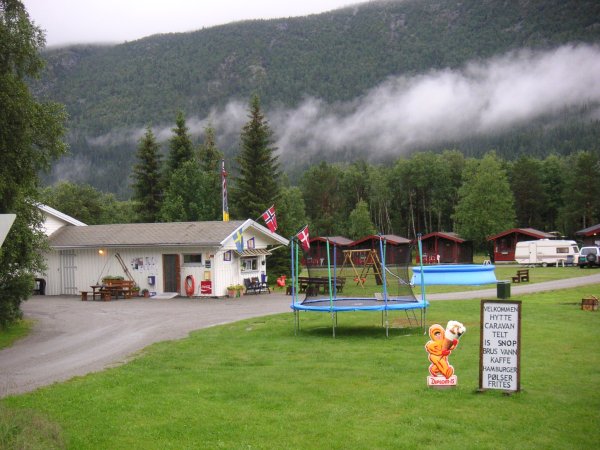 Asked if they had a cheap cabin for rent. The Dutch owner told us he had one available for two persons for NOK 250. Great deal, so we took that one.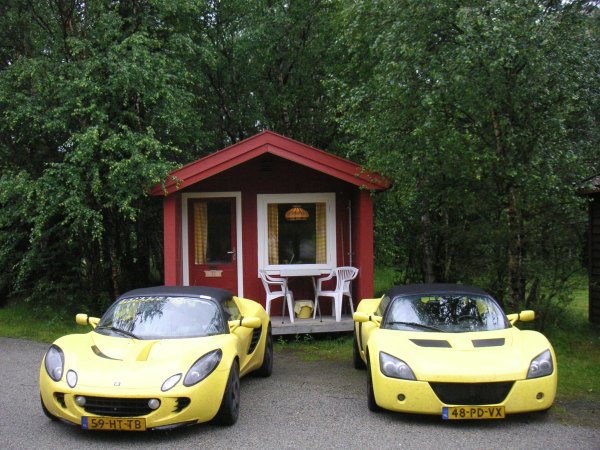 The equipment in the cabin is very good for this price! Cookingplate, fridge, bunkbed and a table with chairs. After transferring all stuff from the cars to the cabin it started pooring down again.
Apparently the owner of the campsite ran in to us before. In 2005 he was on the exact same day at the camspite in Rovanimi (Finland) as we. It sure is a small world :).
Later in the afternoon we drove to the local supermarket to pick up some groceries. As we have a fridge now we got some milk.