Holiday in Scandanavia
Älvsbyn (S) to Åsele (S)
Wednesday 3rd augustus 2005
Woke up this morning at 07:00. On the way to the central toilet building I ran into the camping maintainer (wasn't there yesterday). He told me he was on his way to check out the cars :). Later that morning, when packing, he came by again to get some more information.

The forecasts seemed to be correct. When we left it wasn't raining. After a small drive and filling the cars up we came to the conclusion that we should be able to take the roofs off.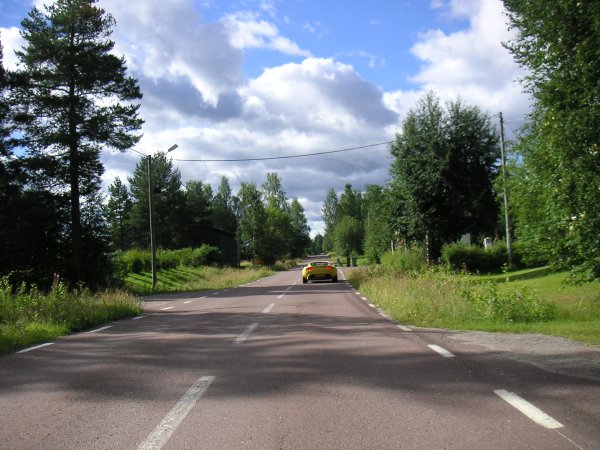 Around 11 we made a short stop to stretch our legs. It occurred to me that at the other side of the road there was a farm with some unusual animals for this area!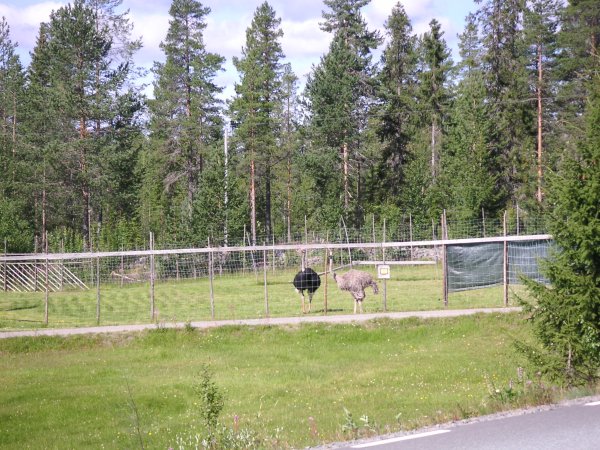 After the stop we continued to Arvidsjaur where they should have some steamtrains. But it looked like the season had stopped, because there was no activity. But we did see some trains.
We stopped for lunch around 12:30. Nice weather, so we could eat out in the sun, nice and quiet (ok, if you don't mind a couple of trucks passing by :) ).
We saw a nice assortment of reindeer on our way. It is difficult to take pictures of them while driving by, but I'm getting better at it.
Sometimes they can be a nuisance, but you can see them on this picture (if you look very carefully :).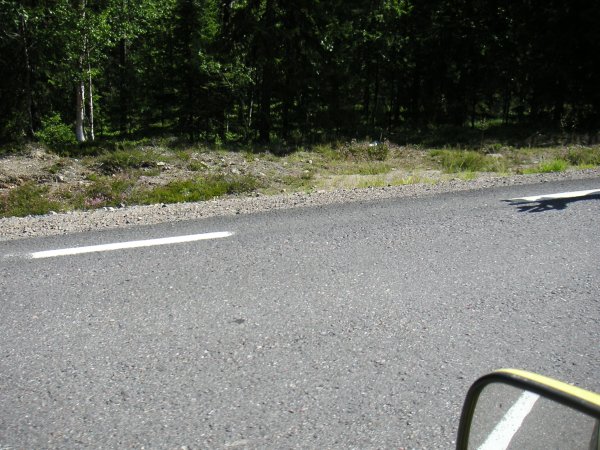 And they get in the way! (click for movie)
Around 13:45 we arrived in Kristineberg. They have an underground church there which we wanted to visit. But they only have tours at specific times. We missed the one at 13:00 and the next one was at 15:00. So we decided not to wait and continue our journey.
We were a bit ahead of schedule, so we made the route a bit longer. That meant we needed more fuel. Today a little more tricky then normal. A the first station our Visa card didn't seem to work (unmanned pump). We couldn't find another pump quickly, in the end we foud one at Lycksele, near a Volvo dealer. Again an unmanned one, but this one did seem to like our Visa cars. Was just in time too:
Normally I wouldn't get up to 366km on one tank, but since I had the remap of the motormanagement and the good progress we can make in Scandinavia, the fuel consumptions has improvoed. Last week I allmost gok 400km on one tank before refill appeared in the display (less than 6 liters).
As our destination for today we choose Åsele. But before we got there we had to take the 365 past some roadworks. Over here that means they're working on about 15km of road at a time!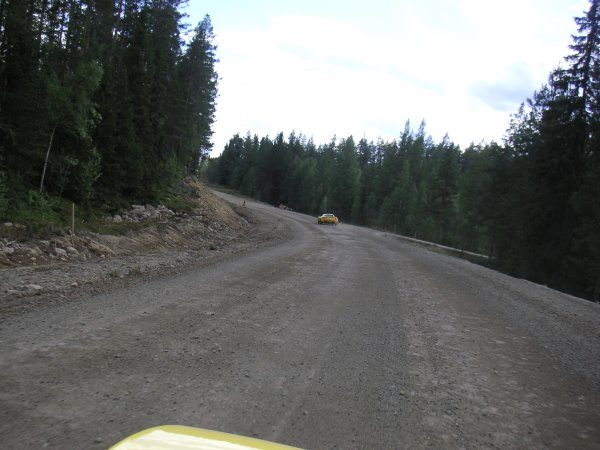 Once we arrived in Åsele we first checked out the campsite. They had a cabbin available. Not very cheap, but it was really big! Hallway, livingroom, kitchen and sleepingroom, including tv, dinnertable, couch etc.
After getting the groceries at the local Ica we made some vegetarian (not intentional, we didn't see it was soja meat) taco's.
Checked out the weather forecast on tv. Looks like it will become very rainy. Next few days showers and after that continious rain. Should become better next tuesday.