Holiday in Scandanavia
Åsele (S) to Björnänge (S)
Thursday 4th august 2005
Today we were in the car around 08:15. We'll try to get near the Norwegian border today, so we can plot a route through Norway tomorrow.

Allthough they forcasted rain for today, it remained dry this night. Even when packing it was dry. But once we were on our way it soon changed. Rain and sunshine changed places in quick succession.

Today we also saw very few reindeer. Probably because we are to far south now.
We did have a couple of nice roads, and some nice spots.

We stopped for lunch around 12. Fortunatly it was dry (with a bit of sun) and we did fine a really nice spot!

In the afternoon we set course to Björnänge. We did take a detour. We're not in a hurry anyway, so we could take the nice roads.

There were some nice spots were you can accelerate from 50 to 110 exiting the different villages. (click the picture for a movie).
And sometimes you run into strange things :).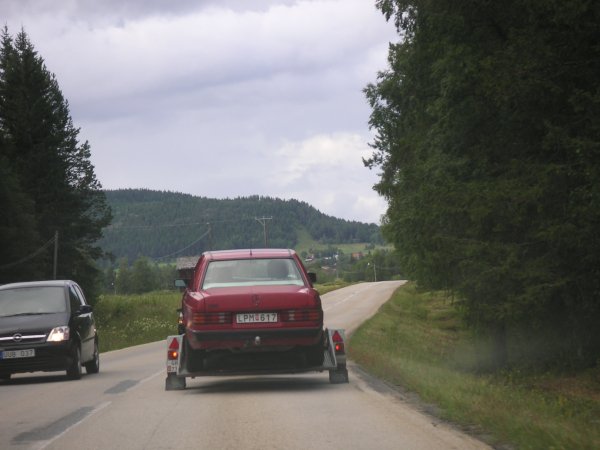 We stopped at an Ica that was on our route to get some stuff for this evening. When we got back to the small parkinglot there was a group people looking a the cars. They seemed to be very interested and were watching closely as we loaded up the groceries and changed our route.
Around 17:00 we arrived in Björnänge. We decided to take a cabin again, as the weather was still quite bad. Allthough we were in a real wintersport area, the price wasn't too bad (just above two spots for tents).
First we made dinner (this time pasta with tomato sauce, extra garlic and a strange dessert). We planned the route for tomorrow (through Norway), did the dishes and updated the website.
In a moment we're going to take a look if we can recieve channel 4 and see if Bengt Magnusson (our hero!) is going to present the news.