Holiday in Scandanavia
Stabbursnes (N) to Inari (F)
Saturday 30th july 2005
This morning woke up at 07:00. Standard stuf again, and now wet tent to pack. The rain had stopped, so we had some time to get the cars cleaned up, check tire pressure etc.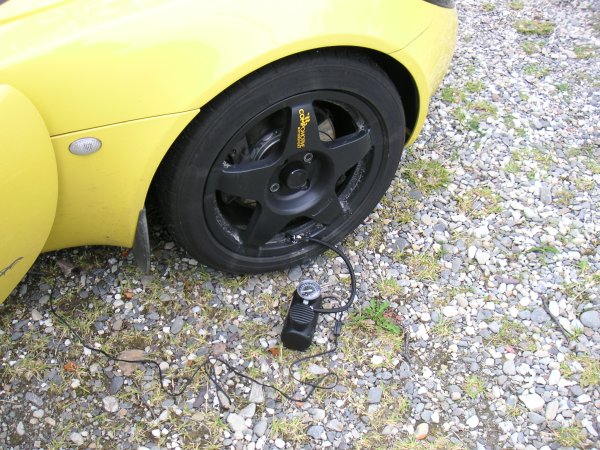 When checking the tires on the Elise we saw that they were wearing a bit faster then expected. We had to see if we could find some new rear tires. As that would be tricky in the weekend we had to check if we could find a tire shop in Rovaniemi this sunday, and see if they would have a set of 225/45R17's on monday.
After we fechted the laundry (it wasn't even completely dry). Fold it up, pack it, and drive off. Got some stamps at the reception and posted the cards.
Once on our way it actually didn't rain.
And a short movie (click the image).
But it didn't stay that way for very long. We did spot some reindeer on our way. Even long enough to take a picture.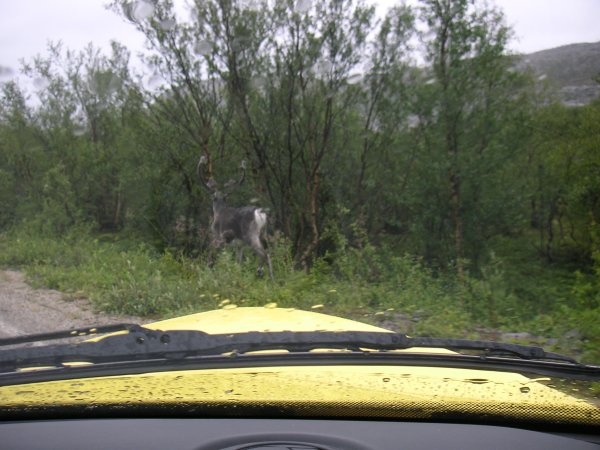 We had lunch in the car. Outside wasn't really possible. Made a quick movie, nice bit of road, but a bit wet..
Around 14:30 we crossed the border with Finland and we headed for Inari. On our way you could see the growth near the road increasing. The weather also improved and we even had some sun.
Once we arrived in Inari we got some groceries in the local supermarket and found a campsite. As soon as we put up the tents it started to rain. But it was only for a short bit, and the sun reappeared after a while.
We made some dinner, ate, washed the dished. Had a quick look round the campsite, but there wasn't a lot to do. So we planned the route for tomorrow and updated the website.
Relaxed for a bit and went to sleep.