Holiday in Scandanavia
Jokkmokk (S) to Kautokeino (N)
Thursday 28th of july 2005
Woke up early today, at 06:30. It rained allmost the whole night. When it got a bit less in the morning, we took our chance and put away the tents. Same story as yesterday, so we had to find a spot later this day to try and dry the tents.

After packing we had some breakfast. Fortunatly the camping had a kitchen with a table and chairs, so we could have our breakfast in the dry. Afterwards hit the showers and around 08:00 we left the camping. Filled up the cars at the local petrol station and headed to Porjus. In Porjus we wanted to visit the water powerplant. It was possible, dayly tours from 10:00 to 17:00. The only problem was that we were allready there at 08:45. So we had a look around the campus.

Just before 10:00 people started to come in for the tour. We got our own private guide, who spoke good english and knew a lot about the powerplant, including all the technical details.
| | |
| --- | --- |
| DC generator for the powerplant intself (2 in total) | Shaft for water feed to the turbines. |
| One of the first turbines opened up (one of 4 in total). | Turbine housing, with adjustible blades. |
| AC generator. | Small DC generator for starting the AC generator. |
| Bearing on (massive +/- 30 ton) shaft between turbine and generator. | And that is how it works. |
| Two newest turbines, front one is for education, other one for research. | The service tunnel to the cave which catches to water from the turbines to remove turbulence from the water. |
| One of the new, vertically placed turbines. | Outgoing, vertical shaft from one of the new turbines (turbine below, generator above). |
| Overview of powerplants in Sweden. | |
After visiting the powerplant it had stopped raining and we took the oppertunity to dry the groundcovers and tents. Afterwards we had a quick lunch (it was allready after 12:00) and continued on our way.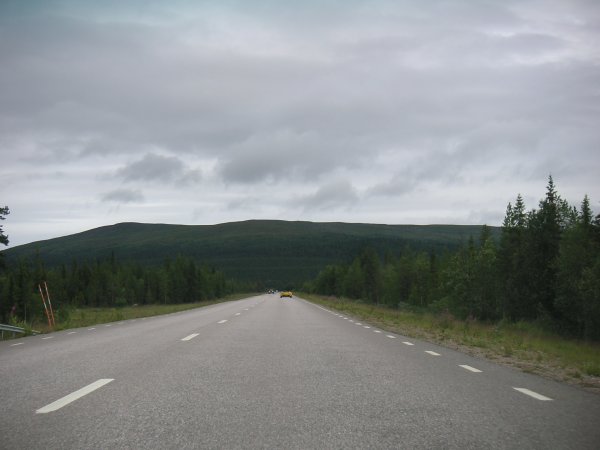 Unfortunatly the dry weather didn't last long, it quickly started raining again.
Around 15:45 we reached Karesuando (S) (Kaaresuvanto (F)) near the border between Sweden and Finland.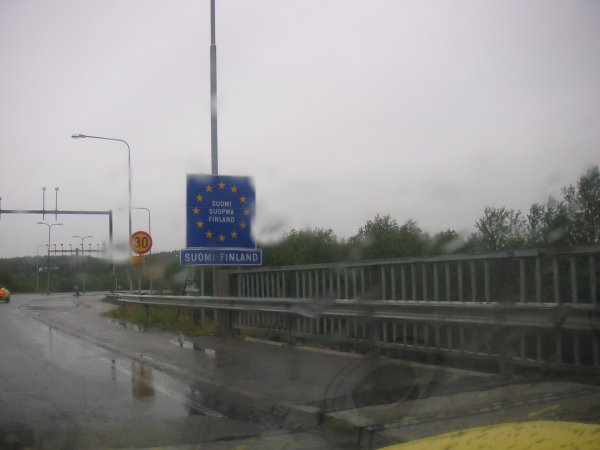 You quickly notice how the plantgrowth changes. The large trees become smaller, untill there are only small bushes left.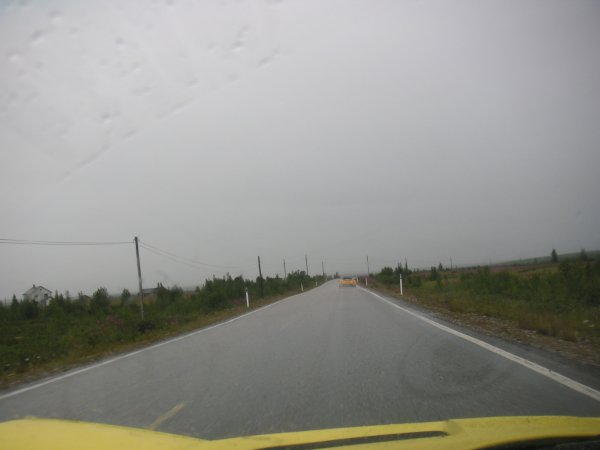 After crossing the border between Finland and Norway, we drove on to Kautokeino. There we found a cash machine (we needed norwegian money), and got some groceries at the Coop. Then we drove a little bit back, to find a place to sleep. Finally we found a room near a motel. We didn't feel like putting up the tents in the rain and hard winds.
In the evening we first had dinner, planned the route (it's getting easier due to the lack of roads :) ), updated the website and went to sleep!