Holiday in Scandanavia
Meselefors (S) to Jokkmokk (S)
Wednesday 27th july 2005
Woke up a little later today, around 07:30. Unfortunatly it started to rain last night (around 04:15). You do notice now that it really doesn't get dark anymore. It is something you see a lot better in a tent than in a cabin. When you wake up in the night you'll think it's early in the morning because it is light allready :).

First had some breakfast and took a shower. Then we had to pack up the tents. As everything is wet, it is not a fun job. First get all of the stuff out of the tent. Then get in inside tent out and put it away. Then you remove the groundcover and put it in a bag. Last, you try and dry up the tent a bit and then put it into a garbagebag.

Around 09:00 we drove away, but had to pose for a picture first for one of the camping owners :).
Fortunatly the rain stopped soon.

We found a nice big parkingspot where we could let the groundcover and tent dry, so we could put everything into their normal bags.

Then we resumed our journey, and we drove along some very nice spots.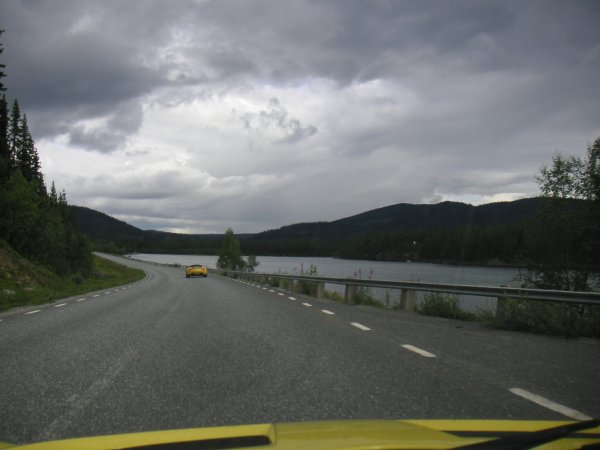 A lot of the roads started to get less smooth. Below you'll find two movies, the lefst is a normal asphalt road, the right a gravel road.
| | |
| --- | --- |
| Your browser does not support the video tag. | Your browser does not support the video tag. |
Around 12:30 we stopped at a parkingplace to have some lunch. Nice spot, but a lot of musquito's. Fortunatly the incense really works well.
Unfortunatly it started to rain again after lunch.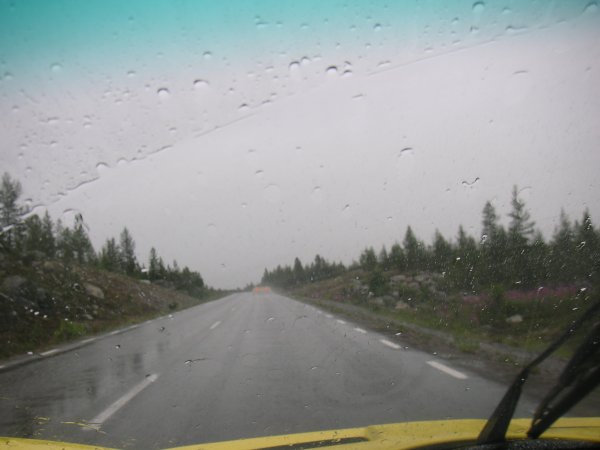 We also got the first roadsigns warning for reindeers. And yes, shortly afterwards we saw some.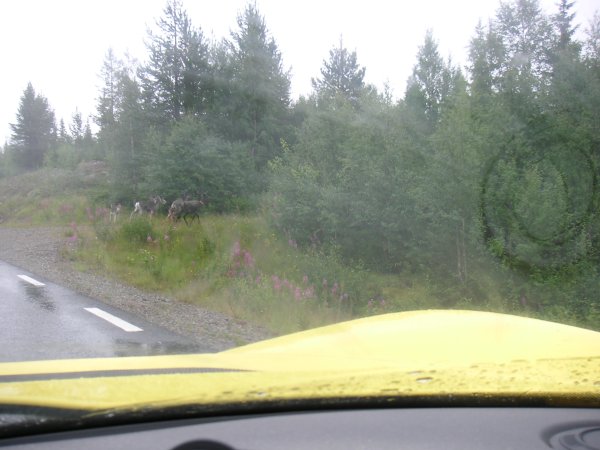 Around 16:30 we reached our first milestone: The Arctic Circle (notice the two small yellow "dots" right in the picture).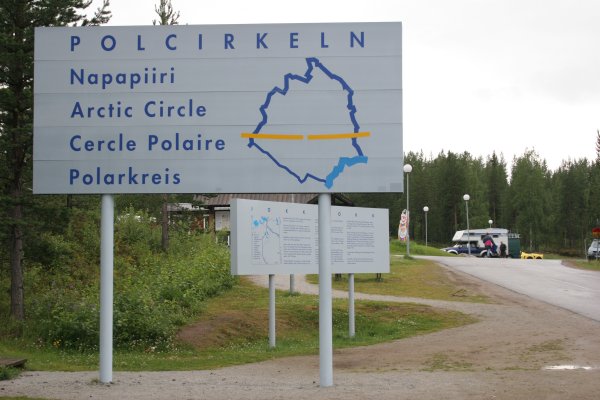 The Arctic Circle we crossed is on the 45 just below JokkMokk.
Some further "evidence" (unfortunatly I couldn't get the camera to focus on both, so I took two photos):
After crossing the arctic cirlce we drove to Jokkmokk. There we got some groceries for dinner, breakfast and lunch.
Just outside Jokkmokk we found a campsite. The owner is from The Hague. And we weren't the only Dutch people there. Just after we put up the tents it started to rain again. We cooked some dinner and ate. After that we planned the route for the next day, cleaned the dishes, brushed our teeth and got into the tents. It was pretty early but we couldn't do much else because of the weather.