Holiday in Scandanavia
Sveg (S) to Meselefors (S)
Tuesday 26th july 2005
Woke up at 07:00 again, but had a pretty good nights sleep. After a shower and breakfast, we packed up our stuff and were in the car around 08:30. Target for today is Strömsund, no special targets in betwee, we'll see if we run into something fun. The weather was a lot better. Except a few drops we had a dry day and drove the whole day wit the top down.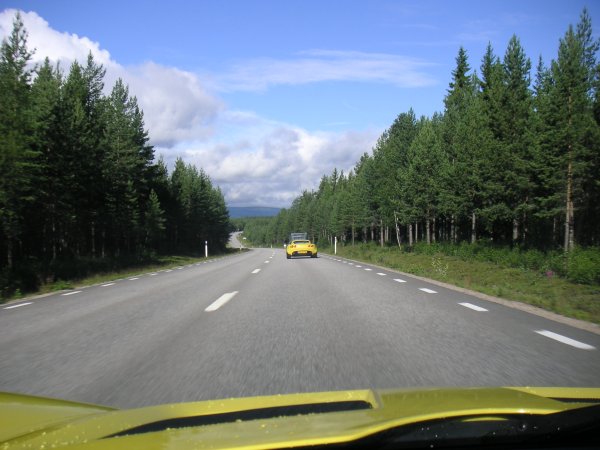 Along the road we found an exit to a waterfall. So we drove up there. The road was pretty tricky due to the large amount of holes. Finally we arrived at a place where we had to leave the cars and continue on foot. In the beginning the path seemed pretty ok. But after a while it became very tricky for me and we returned. But ofcouse I had taken some pictures.
Afterwards we continued, till we came up to Sandviken, just before the bridge to Frösö. There we stopped to have lunch.
Then crossed the bridge and continued to Strömsund.
When we arrived in Strömsund we saw that we had some time to spare. So we first stopped ad the local Ica and got some groseries for dinner and then planned a course to Meselefors, some 103km further.
That was no problem, we arrived at 17:00. As the weather seemed to be fine we got a spot to put up our tents.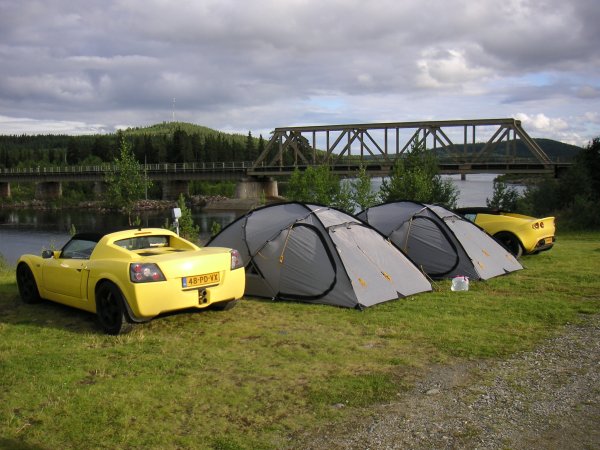 After dinner we planned the route for tomorrow, updated the website and checked out if we had tv reception to check out the weatherforecast. Reception was ok, but we couldn't find a forecast..
The view from the tents was pretty cool!

Relaxed for a bit and then off to bed.