Holiday in Scandanavia
Arvika (S) to Sveg (S)
Monday 25th july 2005
Had a much better sleep, alltough we still woke up at 07:00 (without an alarm clock).
First had a shower, then breakfast and packed all stuff into the cars. Around 08:30 we checked out and got driving. Today we'll go to Sveg, but first to Nusnäs, where the make (among other things) the wooden horses.

After some 50km's we first stopped to tank (at the Uno-x). Normally not worth to mention, but this time it was interesting. When Arno went to pay, he got askey by the cassiere if these are racing cards, if we were running in a race, why we were wearing headsets and if we were near Karlstad, because she heard they saw two yellow cars there (!!). We are being watched!

After we continued our journey.

Unfortunatly it started to rain again...
Then tom tom also started to act up. The map information for Sweden seems to be very detailed, but not very up-to-date. A bit of the 45 has been changed, but the new bit is not on the tom tom map. And on an other bit of the route tom tom directed us onto a road wich was leading nowhere. But we got that idea allready before the end of the road...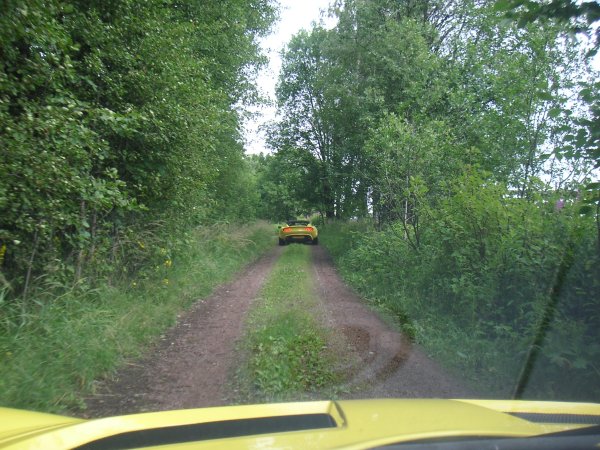 When we arrived in Nusnäs, we first checked out one of the shops where they make the horses. It's very impressive to see how fast these people can work with a saw.
After that they need to be sanded.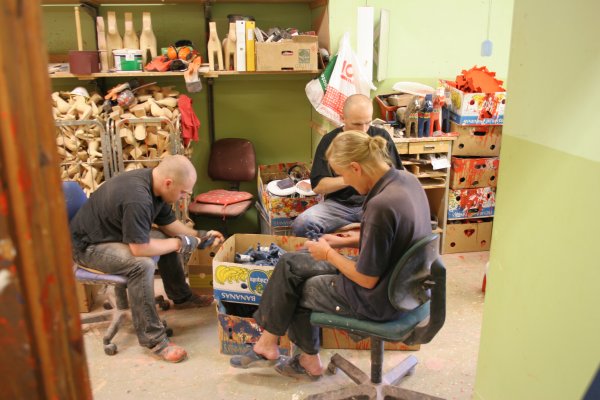 Then they are primed and painted.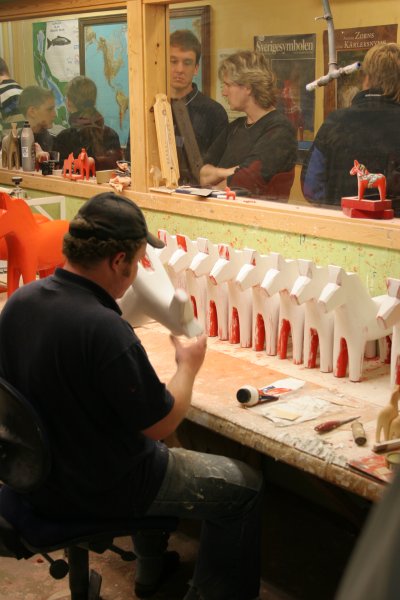 And you end up with a LOT of horses!
After all the horses we decided to have lunch first, as we were approaching 13:30. Ofcouse we took the oppertunity to order some Korv am Bröd (hotdog). And a few sandwiched ofcourse..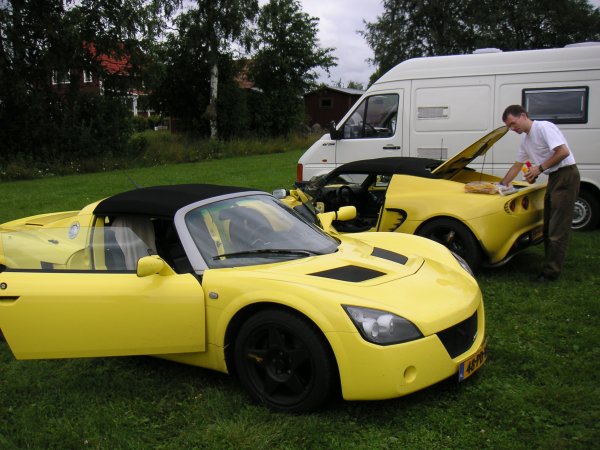 When driving to Sveg we hit the first gravel road. You have to watch out for the holes in the road. Oh, maximum speed is 70km/h! When first driving the road you think this is way to fast, but you end up driving it after a while..
We had a lot of rain during the day, and when arriving in Sveg it kept raining. So we decided to get a cabin.
After unpacking some stuff from the cars we did some shopping at the local Ica for dinner.
After dinner we had some uninvited guests. Outside some birds got IN (!!) the nose of Arno's Elise (unfortunatly no pictures) and we also had some Swedish pidgeon's.
After we planned the route for the next day, updated the website, relaxed a bit and went to sleep.
zwedenPrevious day - Next day