Inside rear view mirror
The standard rearview mirror in the Speedster is rather large and limits the view. A replacement mirror with the anti-blinding options is hard to find. On Seloc I found that Brandan had put a different mirror in his Elise. After some U2U's it seemed like a good option.

So I went to the Mercedes dealer and ordered a mirror for a Mercedes SLK year 1998, part number A 170 810 03 17. The only thing I had doubts about was the price. But at EUR 19.48 excl. VAT it turned out to be a bit of a bargain.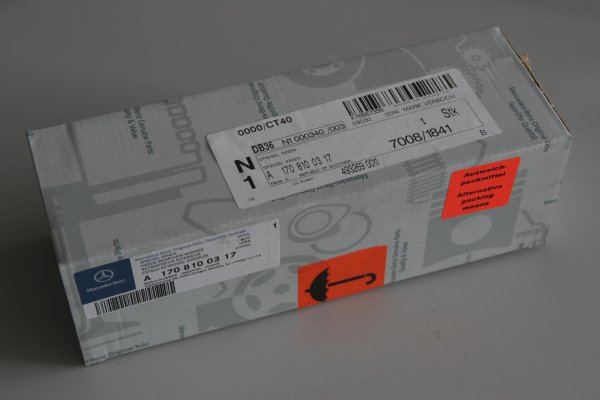 The mirror itself is a lot more rounded than the standard version. It certainly isn't a mini mirror, but it looks a lot smaller.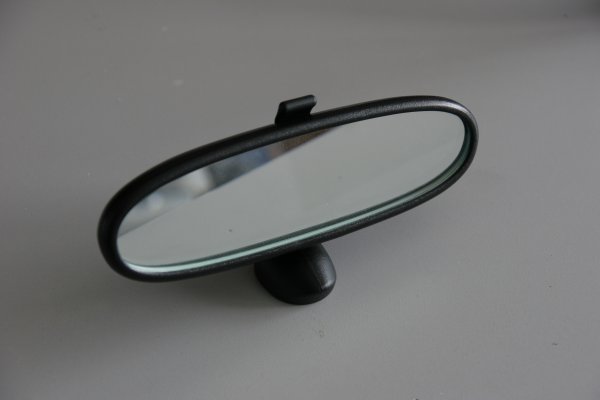 When you put the mirrors side to side you can clearly see the difference.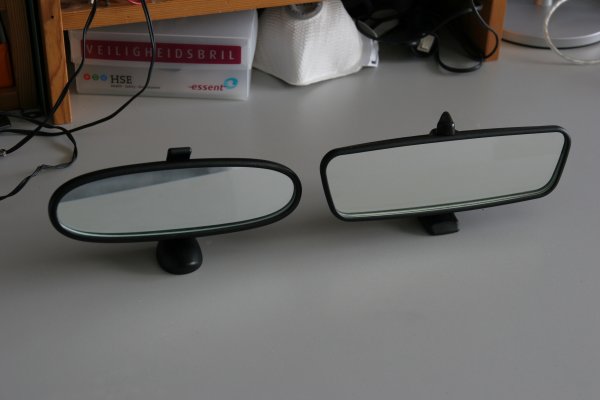 Ok, now to fit it to the car. The mirror of the SLK has a completely different mounting mechanism. Brendan put a different mounting point on the windscreen of his Elise when he got a new front screen. I choose to modify the mirror the the existing mounting point.
The standard mounting point is quite simple, it is nothing more than a plate with a groove where the mirror fits into.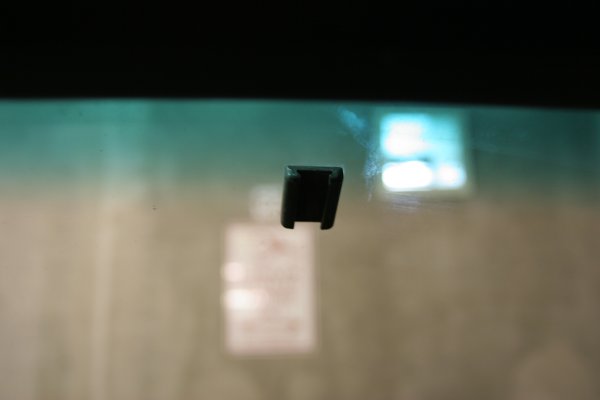 From a piece of very tough plastic I made an adapter that fits the mounting point.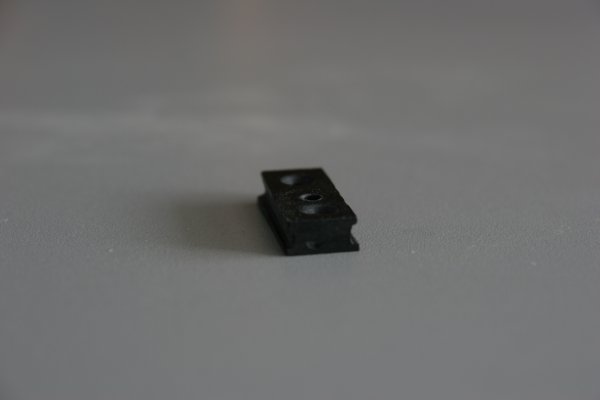 Then I had to ajdust the mirror so the adapter would actually fit to it. The bottom of the mirror looks like this.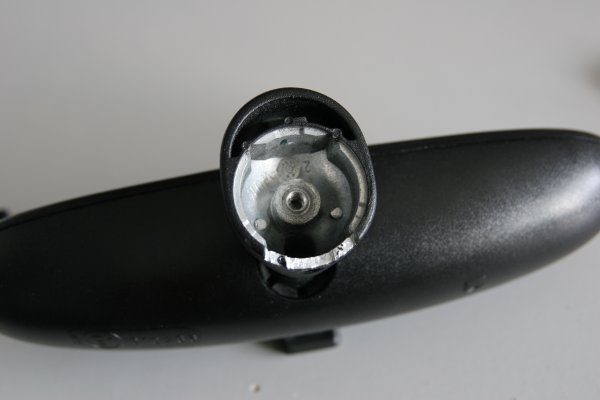 That means making a fillerblock to get the bottem leveled. The filler block could then be fitted to the mirror using the thread that is allready in the mirror. Unfortunatly that didn't turn out to be a standard thread. But a friend of my dad's was nice enough to make some new thread in the mirror so a standard M5 bolt would fit.
I made the filler block from wood. Was a lot of sanding work, but it fits snugly in the end.
Cut the M5 bolt to length so the filler block is firmly attached to the mirror (countersunk the bolt in the wood).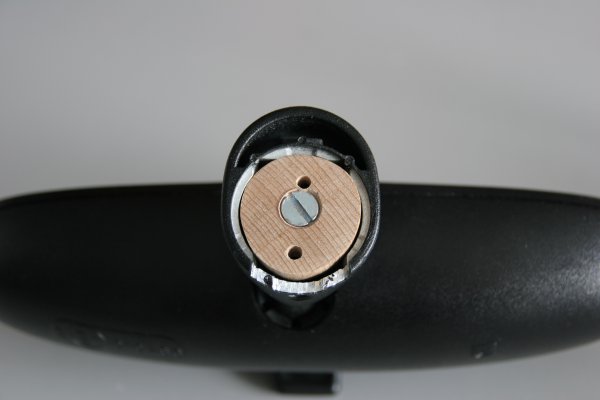 Attached the adapter with 2 M3 bolts to the filler block. Again I countersunk the heads of the bolts here to make sure the adapter still fits the mounting point.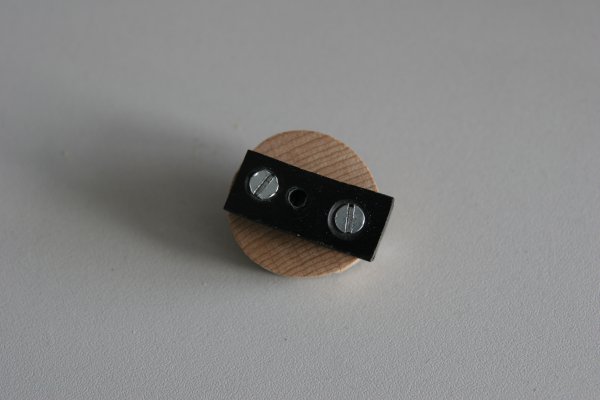 I made an extra hole in the middle of the adapter so I can reach the bolt in the filler block with a screwdriver so it can be attached to the mirror.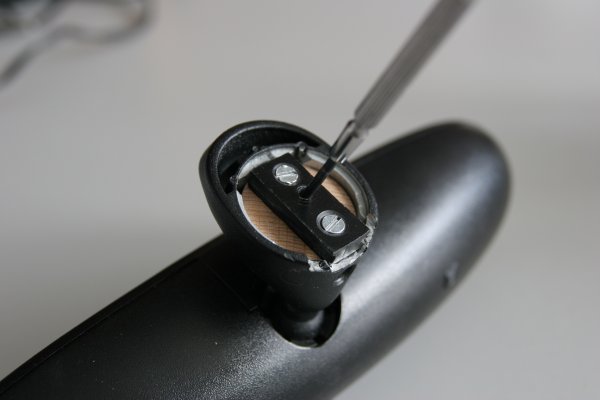 In the end the whole setup looks like this.
Added a bit of color to the light bits.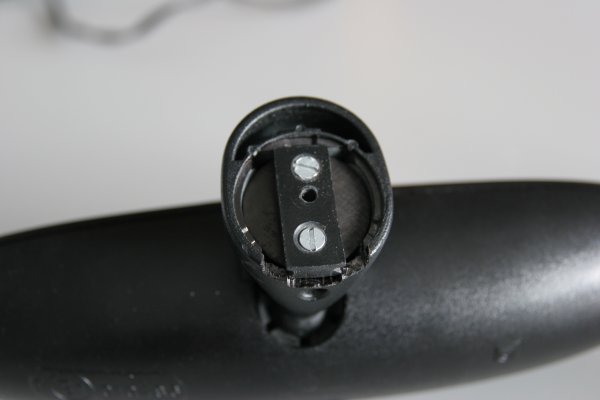 And then it could finally be fitted to the car. Below some pictures of how it looks now.