Lotus Driver Training Experience
Monday 28th of may
Fortunatly we could sleep in today, as yesterday was pretty hectic day. We had breakfast in the Hotel at about 08:00 and checked out around 09:00. We wanted to go karting somewhere. As the weather was reasonable (there was very little rain) we decided to go to the outdoor track Ellough Park Raceway. We exited Norwich's ringroad to the A146, took the B1127 and eventually (after some searching) found the track.

There were loads of people there, including a complete pit where work was being done on karts. There was a race going on when we got there, and we decided to take a look. It looked like some competition was going on.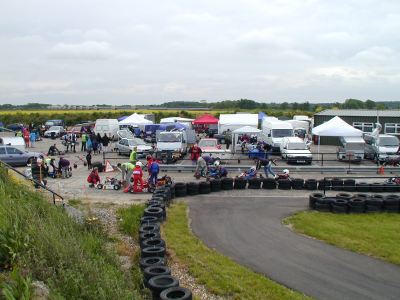 There were all kind of different karts, small karts for children (I think up to about 8 years), different speed classes, 2 stroke and 4 stroke and even karts with a gearbox!
| | |
| --- | --- |
| The 2 strokes smoke a bit. | Could get quite crowded |
| Overview of the circuit. | Lots of smoke at the start |
| One of the 4 stroke karts, real cool sound btw. | The one in front broke, it's getting a push. |
| One of the karts with streamline and gearbox. | They're really pushing. |
| And sometime go too far. | |
After looking at the other kart tracks that are in Norfolk and the time we had available, we decided to go to Duxford, to the Imperial War Museum. We followed the A146 back to the A143 to Bury St. Edmunds. There we took the A14 to Cambridge and got onto the A11. From thereon it's straight to Duxford.
The museum is quite impressive. It's a complete airfield with 5 hangars, filled with airplanes, and there are also some planes outside and some taking of and landing. The hangars are really big, some with "work in progess" planes.
| | |
| --- | --- |
| Mig | Hewey |
| F4 Phantom | Ofcourse a real firetruck. |
| Saab | Corsair |
| What was this one called again? | Hind |
| Blackbird | Harrier |
At around 15:30 we left and set course to Harwich. We took the M11 (just to see how a motorway looks like, frankly, it's boring...), got of it at Birchanger to the A120 and followed that to Harwich.
Just our luck we were early AND the ferry was delayed. Had to spend some time waiting...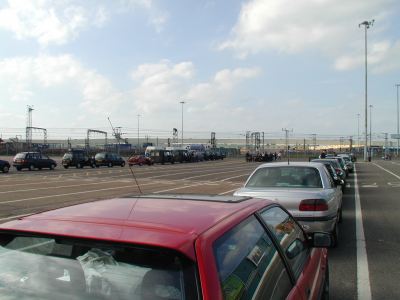 We arrived in Hoek van Holland a half an hour late. And ofcourse they had a footh and mouth check, so that didn't help. The check is very boring, they only ask you a question, but don't check anything.
Luckily the A12 was empty again, so that part didn't take too much time...