Gearknob
I never really liked the original gearknob in the Speedster. A little while ago I found that Momo makes a gearknob in the same style as the steeringwheel and the gearshroud. Today it arrived.
| | |
| --- | --- |
| The Momo Race Air Leather | With manual and mounting parts. |
The tricky part should be getting the original gear knob off in one piece. Heard from a number of people that it can be difficult to get it loose. I took a piece of rubber mat and an oilfilter remover tool. After a couple of tries, it just came loose, no problem at al.
The size isn't that different from the Momo.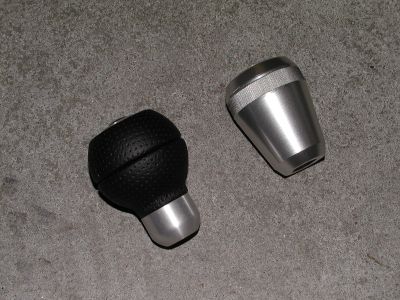 Before mountint the Momo, put on the base part of tne knob :). Then measure the diameter of the thread and select the appropriate piece of rubber.
Put in the three small screws and push the know all the way down on the shaft. It goes down further than the original knob. Then tighten the screws and finally screw on the bottom cover.
| | |
| --- | --- |
| Push it ALL the way down. | Tighten the screws. |
| And the finished result. | |