Rent a Lotus Elise
Last year, we rented a Lotus Elise from Budget (see Lotus Elise). September being the last month of this year the car is still available, we decided to rent it again. Weather wasn't promising to be very good. We had rain most of the week. But the forecasts kept saying friday would be a sunny day, and it was!

We started off early so we wouldn't have to much trafic. Arno first picked up Remco and Nicole and was in Waddinxveen at 06:45.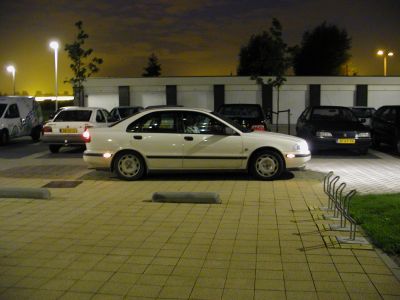 As there are four of us we had to have two cars. Arno's Volvo is the only car which can keep up with the Elise.
We set off to Apeldoorn. Luckily we didn't have too much traffic, so time to stop at a gas station for a pit stop and a bit of breakfast.
We arrived in Apeldoorn around 08:30. After filling out the paperwork and making copies of our drivers licenses (why would they want to do that?? ;), we got the silver Elise. It was all still a bit damp, but fortunatly the sun was coming out.
We set out to try and find the Mc Donalds we went to last time. It had a great parkinglot to try out the car. Unfortunatly we couldn't find it anymore, so we settled for anotherone. First we took some photo's.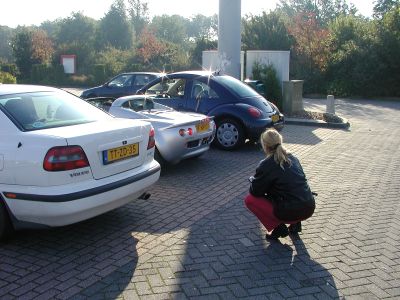 Yes, it's LOW.
After getting a drink (they didn't even have donuts!) Remco and Nicole got acquainted with the Elise in the parkinglot.
Around 10:00 we set off to Hoofddorp. There was a lunch meeting at the Burgerking on the A4 at 12:10.
We tried to avoid the highway's as much as possible. But time was beginning to push, so we got on the A12 and A2 to get to Hoofddorp a bit faster. After driving around Hoofddorp for a bit (it has got some nice corners) we got onto the A4 to the Burgerking.
After the lunch a lot of people wanted to see the Elise.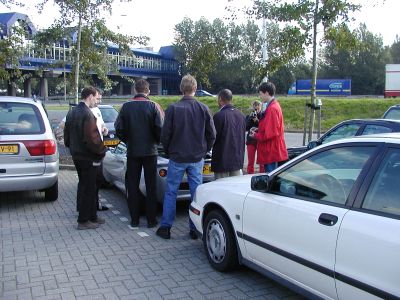 We also mounted one of the camcorders on the windscreen of the Volvo, so we could get some "blik op de weg" footage ;).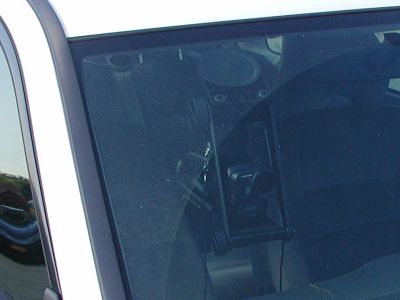 At 13:20 we set off to Waddinxveen, a route I drive almost every day. Unfortunatly traffic was very bad, ruining almost all of the fun corners.
In Waddinxveen I had to sent some emails (I can't even take 1 day of without having to sent out mail ;), so we made a stop at my appartment.
The plan was to be in Apeldoorn between 17:00 and 17:30. We wanted to go to to Nieuwegein and than to Apeldoorn without using the highway too much. We changed cars again somewhere near Schoonhoven. It was getting really sunny, so time to get out some caps.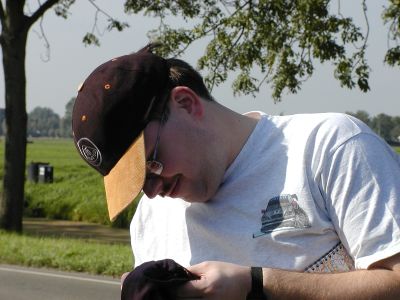 And take in a bit of the scenery...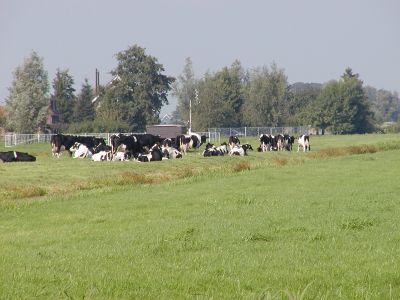 It was very handy having the Volvo along. All the stuff we took with us would never have fitted in an Elise alone.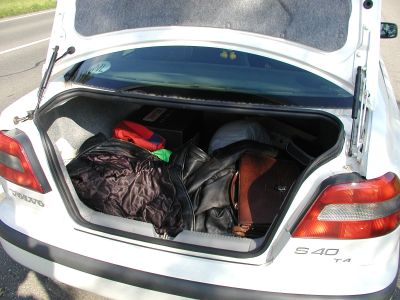 After setting of again and passing Schoonhoven we found some really cool twisty roads.

Arno had this crazy idea to take his helmet with him. Would make for some nice pictures, so I took mine also. Needless to say we were drawing quite some attention...

It was getting a bit late, so we had to take the highway to Apeldoorn in order to get there on time. Luckily there wasn't too much traffic.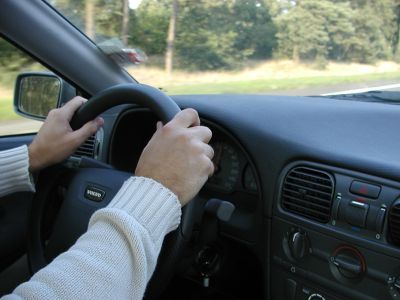 Hold on tight in the Volvo in order to keep up...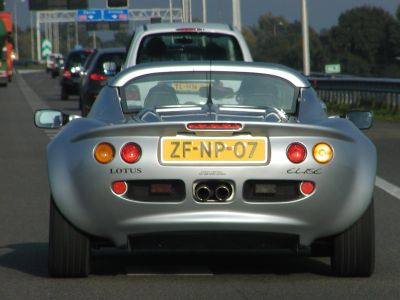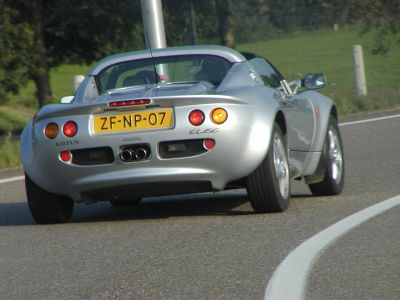 And a fast corner
We barely arrived on time in Apeldoorn, but luckily Budget wasn't closed.
As it would be quite busy on the roads we drove to Apeldoorn and got some food at a Mexican restaurant.
We arrived in Waddinxveen around 21:15 and watched all the photo's and film (we got more than 45 minutes of footage to sort out ;). I hope to update this page with some movies after I've got them digitized and sorted out.